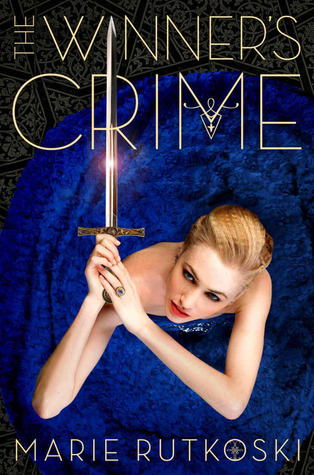 "He did not want her to know. He did not want her to see.
But: Look at me, he found himself thinking furiously at her. Look at me.
She lifted her eyes, and did."
Rating:
---
Genre:
Fantasy* YA* Historical Fiction* Romance
Summary: 
"The engagement of Lady Kestrel to Valoria's crown prince means one celebration after another. But to Kestrel it means living in a cage of her own making. As the wedding approaches, she aches to tell Arin the truth about her engagement… if she could only trust him. Yet can she even trust herself? For—unknown to Arin—Kestrel is becoming a skilled practitioner of deceit: an anonymous spy passing information to Herran, and close to uncovering a shocking secret.
As Arin enlists dangerous allies in the struggle to keep his country's freedom, he can't fight the suspicion that Kestrel knows more than she shows. In the end, it might not be a dagger in the dark that cuts him open, but the truth. And when that happens, Kestrel and Arin learn just how much their crimes will cost them."
Review: 
Hey guys! It's been a long time since I last blogged because school and work has me worn out and pretty busy. I've been meaning to finish this review for a while now since I finished this book in the beginning of February lol. I hope you're all doing well. Without further ado, on to the review!
---
Again, the first thing I have to talk about is that cover. It's freaking swoon-worthy! So so pretty. <3.<3
This book picked up right where we left off, but Kestrel and Arin aren't in the same country anymore. Arin is back in Herran as the governor and Kestrel is in the capital of Valoria, prepping for her big wedding day. This sequel had a lot more politic entanglement and espionage entwined. We got to see a different side of Kestral, a more deceitful side as she becomes a spy for Herran. I admired her bravery in doing what's right, even though she's ultimately betraying her country and her father.
Kestral was more daring and willing in this book then the first, which I really liked because it showed how much her character developed throughout the series. Arin was swoon-worthy as always but I felt like his character development was hindered a bit. Whenever we were in his POV, there was A LOT of feelings involved. I mean, I like when characters show emotion and whatnot, but it was too much for me. It was always "Kestrel this" and "Kestrel that", and "oh this reminds me of Kestrel." Every time some action occurred in his POV, it would revert to thinking about Kestrel or something reminding him of her. A lot of angst for sure.
I loved when Kestrel and Arin were in the same room though because the tension was so plausible. I loved that part of the book. But the plot as a whole lacked a little towards the middle because it was just plain boring. Not a lot was happening, no action, no romance, a lot of angst, but nothing that really grabs the reader's attention. Also, I didn't understand why the whole "Arin traveling to the East" was really necessary to the plot but it was interesting nonetheless. I enjoyed the new characters introduced when Arin was there.
And then, I came across the ending. I was speechless…
…after I screamed at the book that is.
I don't want to spoil anything for you guys but I can give a few hints. Kestrel and Arin were in the same room and he figured out the truth and he confronted Kestrel. Then it ALL went downhill from there. 😦 I was yelling at Kestrel, I was crying for Arin, then I was crying for Kestrel, then I was just asking why Rutkoski would do this to me in the time span of 5 minutes lol. Even though I wasn't happy with what happened to the characters, that ending was amazing. It was a brilliant way to set up the plot for the last installment in this series. The ending made everything 10x better.
Guys, you have to read this series. I insist, you MUST read it. I would highly recommend. Even though I had some issues in the middle of this book, that ending made me physically need the third book in my hands. March 29th can't come soon enough!
*Picture and summary from Goodreads."