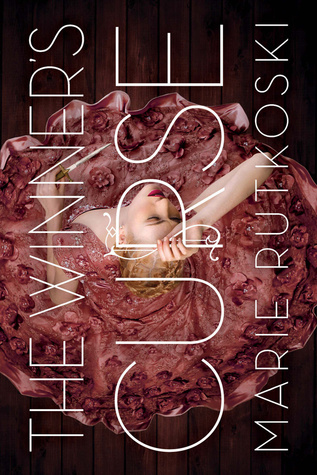 "Isn't that what stories do, make real things fake, and fake things real?"
Rating:
---
Genre:
Fantasy* YA* Historical Fiction* Romance
Summary: 
"Winning what you want may cost you everything you love..
As a general's daughter in a vast empire that revels in war and enslaves those it conquers, seventeen-year-old Kestrel has two choices: she can join the military or get married. But Kestrel has other intentions.
One day, she is startled to find a kindred spirit in a young slave up for auction. Arin's eyes seem to defy everything and everyone. Following her instinct, Kestrel buys him—with unexpected consequences. It's not long before she has to hide her growing love for Arin.
But he, too, has a secret, and Kestrel quickly learns that the price she paid for a fellow human is much higher than she ever could have imagined.
Set in a richly imagined new world, The Winner's Curse by Marie Rutkoski is a story of deadly games where everything is at stake, and the gamble is whether you will keep your head or lose your heart."
Review:
I have heard so much about this book and I was so happy when I FINALLY got my hands on it. The cover is beautiful. The summary seems really intriguing. The format (title, chapter numbers, and page numbers) was really unique since you don't see a lot of books literally sideways. The appearance of the book in general was really beautiful and put together.
I really liked this book! Rutkoski introduced a new storyline that I haven't heard of in YA fiction. You don't see a lot of authors talking about slaves in their stories but Rutkoski really knew what she was doing because it was freaking good.
The world-building was done really well. I understood the history of the two warring nations and how they came about very easily. You know how some books just dump information of how the world worked and you're so confused on who is what and what is who? Well yea, there's none of that here! The politics and history was infused very well and it made the story a real attention-grabber.
The plot was SOOO GOOD. There were so many shockers and the end result was one I didn't expect.
The slow-burning romance was swoon-worthy! There was so much angst and forbidden love going on but it was SOOO GOOD GUYS. You couldn't read this book and not root for Kestrel and Arin. I totally ship them! I love how Rutkoski didn't immediately put them together, heck they didn't end up together at the end either (not a major spoiler). But I feel like that added more to their romance so when they finally get together, it would be worth it.
"My soul is yours", he said. "You know that it is."
The characters were their own people. No one character overshadowed another which added more to the story. Kestrel was a cunning and brilliant MC. She's sly and strategic when she needs to be but oh-so feminine. Arin was a conflicted soul who is a true warrior at heart. This journey between these two different characters who are from two seemingly different worlds showed how one spontaneous moment can have lasting consequences (if you read this book, then you know what I'm talking about).
As good as this book was, I did have some problems with it. There were some lines that I was like "whaat??" because it just didn't make sense. It felt like the "beautiful writing" that authors try to incorporate goes too far sometimes, as it did in this case:
"He had blinked at his name, but didn't lift his face."
What if he was just blinking because oh I don't know, humans blink?
There were other instances like this throughout… but overall it was a great read. I can't wait to read the second book and see how the ending plays out. Happy reading!
*Picture and summary from Goodreads.*