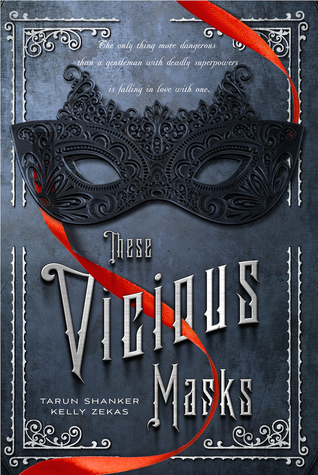 Rating:
*I received an eARC from the publisher through Netgalley for an honest review.*
---
Publication date: February 9th, 2016
Genre: Historical Fiction* Fantasy* YA* Paranormal
Summary: 
"Jane Austen meets X-­Men in this gripping and adventure-­filled paranormal romance set in Victorian London.
England, 1882. Evelyn is bored with society and its expectations. So when her beloved sister, Rose, mysteriously vanishes, she ignores her parents and travels to London to find her, accompanied by the dashing Mr. Kent. But they're not the only ones looking for Rose. The reclusive, young gentleman Sebastian Braddock is also searching for her, claiming that both sisters have special healing powers. Evelyn is convinced that Sebastian must be mad, until she discovers that his strange tales of extraordinary people are true—and that her sister is in graver danger than she feared."
Review:
I was hooked at "Jane Austin meets X-Men!" Like why hasn't this been done sooner?!
This was a thrilling adventure set in the historical Victorian era. I enjoyed this so much; I love historical fiction and I haven't found a lot of good books in this genre so I was so happy when I stumbled upon this beautiful story.
The concept? Unique and oh so original. Execution? Perfection. Characters? Witty and amusing, just how I like them. Setting? Vivid descriptions. Plot? Filled with surprises and many twists and turns. Romance? Oddly lacking and made you want more then offered.
The plot was really thought out. There wasn't any jarring pieces of information or anything, and I'm so glad because the story could have taken a turn for the worst real quick. The mention of powers actually worked. You would think that superpowers in the Victorian era couldn't make a great story but it definitely worked in this case. Props to Shanker and Zekas!
Evelyn is the MC who is sick of society's restrictions and it was rather refreshing because in this era, hardly anyone had that mindset. She was a determined and stubborn character who went to highs and lows to find her sister. I really liked her as the MC because she held her own through every situation! Whether it was retorting back to the annoying Miss Verinder, handling herself in a bar, or fighting off the evil Dr. Beck, Evelyn held her own. She didn't need anyone to hold her hand through every situation; she was an independent woman. *snaps fingers in z formation*
There wasn't a lot of romance, but there was definitely something there. Some hints of a love triangle between the dashing and charming Mr. Kent and the brooding and mysterious Mr. Braddock were present. Mr. Kent was Evelyn's friend and he offered to help her in her search for her sister. I really liked him; I was rooting for that ship to sail out…in the beginning. Mr. Braddock was a secretive guy who claimed Evelyn and her sister Rose have powers to heal and he soon joins the search for Rose as well. As the story progressed, I started to like Mr. Braddock because he seemed so genuine compared to the the witty Mr. Kent.
What I really loved about this book was the way it transported me there. The descriptions were so precise; the authors captured the atmosphere, the clothes, the dialogue, the thoughts, and the interactions of the Victorian era and it was absolute perfection. This is way I love historical fiction.
The only problem I had was the endless search of finding Rose. It felt like it took way longer then necessary. Given, it allowed room for character development to occur but still, it could have been shorten just a little.
AND THAT ENDING. IT WASN'T FAIR! GET READY FOR THE WATERWORKS PEOPLE. If this was a stand-alone like I initially thought, I would have some serious problems with this book. But it's a series so I am hoping for more things to be played out and resolved. I would totally recommend!
| Goodreads | Amazon | Barnes & Noble |
What are your thought? Are you interested in picking up this book?
*Picture and summary from Goodreads.*